World Economic Outlook - April 2009
Author:

International Monetary Fund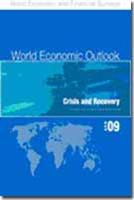 Add to Basket
This keenly-awaited edition of the World Economic Outlook explores how a dramatic escalation of the financial crisis in September 2008 provoked an unprecedented contraction of activity and trade, despite active policy responses.
This detailed document explores the global landscape during one of the most turbulent economic periods of modern times. It will be of wide-ranging application and interest not just for economic professionals but also for researchers and journalists eager to understand more fully the global financial story of our times.
It presents economic projections for 2010, and also looks beyond the current crisis, considering factors that will shape the landscape of the global economy over the medium term, as businesses and households seek to repair the damage.
The expert analysis outlines the difficult policy challenges presented by the overwhelming imperative to take all steps necessary to restore financial stability and revive the global economy, and the longer-run need for national actions to be mutually supporting.
The first of two analytical chapters, "What Kind of Economic Recovery?" explores the shape of the eventual recovery. The second, "The Transmission of Financial Stress from Advanced to Emerging and Developing Economies," focuses on the role of external financial linkages and financial stress in transmitting economic shocks.
Key features:
Economic projections for 2010

Expert analysis of the factors that will shape the global economy for the next decade

Comprehensive discussion of the policy challenges

The first comprehensive expert analysis on the shape of the economic recovery.

Find similar publications here: