ILO
Show me:
World employment and social outlook: trends 2017
Corporate Author:

International Labour Office

Publisher:

ILO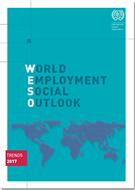 Add to Basket
This edition takes stock of the current global labour market situation, assessing the most recent employment developments and forecasting unemployment levels in developed, emerging and developing countries. It also focuses on trends in job quality, paying particular attention to working poverty and vulnerable employment. Global GDP growth hit a six-year low in 2016, at 3.1 per cent, well below the rate projected in the previous year. Looking ahead, global economic growth is expected to pick up modestly in 2017 (3.4 per cent) and 2018 (3.6 per cent). However, as this report highlights, the forecasts for growth for 2017 have continually been revised downwards over recent years (from over 4.6 per cent forecast in 2012 to 3.4 per cent forecast in 2016) and there is persistent elevated uncertainty about the global economy. The rather disappointing economic performance in 2016 and the below-trend outlook for 2017 raise concerns about the ability of the economy to (i) generate a sufficient number of jobs, (ii) improve the quality of employment for those with a job, and (iii) ensure that the gains of growth are shared in an inclusive manner. Countries around the globe are facing the twin challenges of repairing the damage caused by the crisis and creating quality employment opportunities for new labour market entrants.
Find similar publications here: