FAO
Show me:
Save and Grow in Practice: Maize, Rice, Wheat
Author:

Food and Agriculture Organization (FAO)

Publisher:

FAO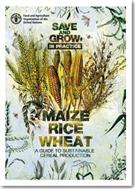 Add to Basket
FAO's best-selling 2011 publication, Save and Grow, proposed a new paradigm of agriculture, one that is both highly productive and environmentally sustainable.
This new book looks at the application of Save and Grow practices and technologies to production of the world's key food security crops - maize, rice and wheat. The book will be a valuable reference for policymakers and development practitioners guiding the transition to sustainable food and agriculture.
Find similar publications here: