EBRD
Show me:
Transition Report 2005
Business in Transition
Author:

European Bank for Reconstruction and Development (EBRD)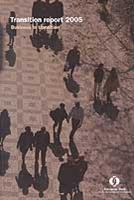 Add to Basket
This year's Transition Report draws on the findings of a survey of nearly 9,500 companies interviewed for the latest Business Environment and Enterprise Performance Survey (BEEPS). While the business environment in the transition region has generally improved since the last survey in 2002, there is considerable variation between countries.
The 'Transition Report 2005' analyses what kinds of firms are particularly affected by a difficult business environment and compares the transition countries with mature market economies. The high costs of business regulation, a poor institutional framework, weak property rights, and an unstable macroeconomic environment all emerge from the survey as major obstacles to doing business in transition countries.
The Report also takes a close look at the performance of enterprises in the region. It assesses what types of firms – private or state-owned, foreign or domestic – have been the most successful in increasing their sales and improving efficiency and highlights the main factors that influence a firm's performance.
» More EBRD Transition Report titles

Find similar publications here: