Arboriculture
Tree Roots in the Built Environment
Research for Amenity Trees No. 8
Author:

Centre for Ecology and Hydrology (CEH)

Publisher:

TSO (The Stationery Office)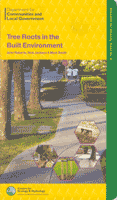 'Tree Roots in the Built Environment' sets out a comprehensive review of tree root biology and covers a broad range of practical issues that need to be considered in order to grow trees successfully in our towns and cities and to realise the significant benefits they provide in built environments.
Topics covered include:
soil condition and roots;

improving tree root growth in urban soils;

water supply and drought amelioration for amenity trees;

coping with soil contamination;

protecting trees during excavation and good trenching practice;

control of damage to tree roots on construction sites;

tree root damage to buildings and pavements, sewers, drains and pipes; and

research needs and sustainability issues.
Key features:
Provides review of current technical background and advice on the impacts of trees on the surrounding built environment.

Focuses on a broad range of practical issues, specifically written to meet the needs of the practitioners concerned with amenity trees.

Part of the Research for Amenity Trees series also published by TSO
Widespread concerns about the effects of trenching by the utility services and especially the nationwide installation of cable communications have revealed the knowledge of root form and function and of their impact in the built environment lags behind our understanding of foliage and trees. This publication details information on a wide range of practical problems in this area.
Author / Organisation:
The Centre for Ecology and Hydrology (CEH) is the leading body in the UK for research, survey, and monitoring in terrestrial and freshwater environments.
Find similar publications here: