Road Transport
An Introduction to the Use Of Portable Vehicular Signals
Second Edition
Author:

Department for Transport (DfT)

Publisher:

TSO (The Stationery Office)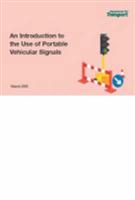 Add to Basket
'An Introduction to the Use of Portable Vehicular Signals – Second Edition' is a complete update of the first edition, published in 1986, reflecting all of the changes in guidelines related to the use of vehicle actuated traffic signals. This publication explains the objectives behind, the workings of, and details regarding the efficient use of vehicle actuated traffic signs.
All organisations using vehicle actuated traffic signals must comply with the guidelines laid out within this text.
Key Features:
Trouble-shooting guide

Instructions on how to set up the equipment

Instructions on how to use the equipment safely and efficiently.
Bulk purchase discounts:
Discounts are available on bulk purchases of this publication. To find out more contact our customer services department on: +44 (0) 870 243 0123, or email: customer.services@tso.co.uk

If you're interested in this, you might also be interested in...
Find similar publications here:

Show all Subjects & Categories