Maritime & Nautical
British Maritime Doctrine 3rd Edition
BR-1806
Author:

British Ministry of Defence

Publisher:

TSO (The Stationery Office)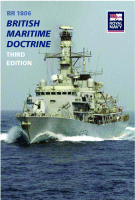 Add to Basket
Contains authoritative and comprehensive guidance on the employment of maritime power. This edition has been updated from the 2nd Edition (1999) against a rapidly changing strategic background that has included the strategic shock of the terrorist attacks of September 11th 2001 and a subsequent reappraisal of Defence Strategic Guidance
World-wide operations by UK forces in the last 5 years have seen the Royal Navy's operational concept of the Maritime Contribution to Joint Operations (MCJO), developed during the 1998 Strategic Defence Review, evolve into doctrine. This is reflected in this edition, although many maritime doctrinal principles remain enduring.
The subjects addressed by the central chapters include: maritime environment; the distinctive features of the sea and the attributes of maritime forces; the doctrinal principles of sea control, maritime power projection and maritime manoeuvre.
A bibliographic essay contains references to the principal available works on maritime doctrine that may be used to develop a further understanding of the subject.
Find similar publications here:

Show all Subjects & Categories