Maritime & Nautical
The Seaway Code
Author:

James Stevens

Publisher:

TSO (The Stationery Office)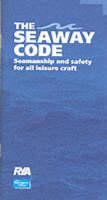 Add to Basket
The Seaway Code is for dinghy sailors, windsurfers, motor boaters, jet skiers or yacht sailors, whether prospective or practising, leisure use of coastal waters is becoming ever more popular. Quite apart from the technicalities of sailing or driving your craft, a grounding in the safety measures, custom and practice, legal requirements and weather and water conditions can not only boost your confidence but increase your enjoyment as a result. It should also help to keep or get you out of a tight spot, should the need arise.
This book covers all the background you should be familiar with before you venture out on the water. It ties in with the 'seamanship' aspects of basic training contained in the courses provided by the Royal Yachting Association, with whom the Seaway Code has been produced. It is therefore a great pre-sailing season read to refresh the memory of those already afloat as well as a thorough overview for new entrants to almost any form of boating or boarding.
Highly illustrated in full colour, just as the Highway Code gives you the complete 'rules of the road' for any road user, the Seaway Code is a straightforward presentation of the 'nitty gritty' for use of inshore waters. Written in a non-technical style it is designed to be accessible to teenage readers as well as adults.
Key Features:
Applies to all leisure craft users, irrespective of the type of craft

Comes with detachable sticker panel with regulation radio Mayday call, required by law to be stuck next to ships' radios

Extensively and clearly illustrated in full colour

Ideal introduction for new entrants to water sports or aide memoire for infrequent boat/board users

Handy, pocket sized can be taken aboard small boats for use on the water
Find similar publications here:

Show all Subjects & Categories