TSO Scotland
Show me:
The Nature of The Cairngorms: Diversity in a Changing Environment
The Natural Heritage of Scotland Series
Author:

Edited by Philip Shaw and Des Thompson

Publisher:

TSO (The Stationery Office)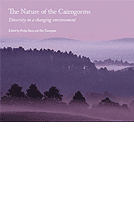 The Cairngorms area is arguably the most significant for nature conservation in the British Isles and contains its largest National Park. In 'The Nature of the Cairngorms: Diversity in a Changing Environment', 35 authors have drawn from a wealth of published and unpublished sources, to present an up-to-date review of the area's natural features, including plants, animals, habitats, geology and landforms.
The review falls into three parts. The first and largest part describes the area's rich diversity of nature, with each chapter summarising recent research findings, trends and conservation issues for a different landform, habitat or species group. The second part considers deer management, recreation and projected climate change impacts. Part three focuses on rare and threatened species, and identifies areas and habitats rich in species for which the Cairngorms are nationally and internationally important.
Key features:
Presents a substantial amount of new and previously unpublished information.

Contributions from a range of experts in their field.

Over 140 full colour images

Publication coincides with the beginning of the formal public consultation on the draft Parks Plan, prepared by the Cairngorms National Park Authority.
Critical acclaim:
'Especially for conservation professionals - but also for an educated public - this book will become indispensable.'- Prof. Georg Grabherr, University of Vienna
'...the most comprehensive statement of the natural history of the area yet compiled' - the late Dr Derek Ratcliffe, former Chief Scientist, Nature Conservancy Council
'...like the magnificent Cairngorms area itself, this book has many layers. You can keep returning to it, discovering more to inform and give pleasure. It is a major contribution to understanding Britain and Ireland's foremost uplands and their significance on the world scene.'- Dr Kenny Taylor, Chairman of the Cairngorms Local Biodiversity Action Plan Project
'Each chapter of 'The Nature of the Cairngorms' has been written by an expert...the whole is topped and tailed by a well-written introduction and a fascinating account of 'patterns of species diversity' by the editors...Top marks to them for bringing it all together in an accessible form...If they are right, the riches of the Cairngorms, so recently revealed and so beautifully celebrated in this book, stand to be swept away within the lifetimes of some of its younger authors.' - Peter Marren in 'British Wildlife'
'...one of the delights of the book - you can delve deeply or just dip in it...Habitat associations are discussed, the richest areas identified and the importance of continued monitoring of all species found in the Park stressed. I have immensely enjoyed reading this book, knowing that having visited the area, I can then come back to find out more from the book before the next visit.' - Janet Crummy in 'Scottish Bird News'
'...a true landmark...beautifully illustrated, elegantly designed.' - Kenny Taylor in 'BBC Wildlife'
Find similar publications here: