TSO Northern Ireland
Report on the Tobacco Retailers Bill
NIA 137/11-15, Report of Session 2011-15: Report, Together with the Minutes of Proceedings, Minutes of Evidence and Written Submissions Relating to the Report
Author:

Northern Ireland Assembly - Committee for Health, Social Services and Public Safety

Publisher:

TSO (The Stationery Office)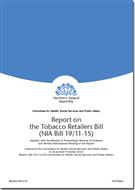 'Report on the Tobacco Retailers Bill (NIA 137/11-15)' examines the purpose of the Tobacco Retailers Bill which aims to introduce stricter sanctions against retailers who sell tobacco to under-18s, and thereby ensure that the minimum-age-of-sale policy is more rigorously applied.
The evidence from stakeholders was overwhelmingly in favour of the Bill, although a few key issues did emerge.
All recommendations of the Committee were accepted, including:
the establishment of a central registration authority of tobacco retailers;

the refusal of a person convicted of an illicit tobacco offence that resulted in a custodial sentence (whether suspended or not), shall not be allowed to register as a tobacco retailer for a period of five years from the date of the conviction; and

the threshold for councils being able to seek restricted premises and restricted sales orders, to be set at three offences in five years to allow such orders to be secured.
A range of stakeholders suggested that the Bill should be used to create an offence for an adult to purchase tobacco on behalf of someone under 18 years of age, and that is to be incorporated into the Bill.