TSO Northern Ireland
Battles, Boats & Bones
Archaeological Discoveries in Northern Ireland 1987-2008
Author:

Northern Ireland Environment Agency (NIEA)

Publisher:

TSO (The Stationery Office)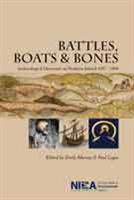 Add to Basket
How did our ancestors build their homes? What weapons did they use? What religious rituals did they follow? What did they eat? How did technology develop over the centuries?
These are just some of the questions answered in Battles, Boats & Bones, which offers a fascinating insight into the daily lives of our ancestors stretching back as far as the Early Neolithic period. Bringing together details and interpretations of discoveries made as a result of 25 archaeological excavations across Northern Ireland over the last 20 years, the book is a window into our collective past. Click here to see an animated timeline of events.
It is essential reading for anyone interested in looking beyond the monuments and imprints of the past on our landscape to discover the people and history that made them.

Find similar publications here:

Show all Subjects & Categories