Medicine
OPCS Classification of Interventions and Procedures Version 4.7 combined Volumes I & II (April 2014)
Volume I - Tabular List and Volume II - Alphabetical Index
Author:

Health and Social Care Information Centre

Publisher:

TSO (The Stationery Office)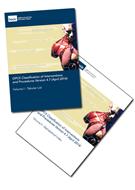 Add to Basket
The OPCS Classification of Interventions and Procedures Version 4.7 is for NHS implementation on 1 April 2014. The OPCS-4 Classification is an NHS Fundamental Information Standard, developed and maintained by the NHS Classification Service and primarily used by health care providers throughout the NHS.
This latest version continues the enhancement of OPCS-4 Classification to reflect changes in clinical practice. The Classification supports various forms of data collection such as Central Returns and Commissioning Data Sets, as well as other secondary uses of information essential to planning and improving patient care.
Among these secondary uses are:
Operational and strategic planning

Reference purposes

National and local planning and performance management

Epidemiology

Department of Health Initiatives

Information grouped by Healthcare Resource Groups
The OPCS-4 classification system is now reviewed annually and updated as deemed necessary based on the feedback from the NHS.
The enhancements in OPCS-4.7 continue to reflect changes to clinical care in recent years and enable clinicians, in collaboration with clinical coders, to better describe interventions and procedures. As a result, using the updated volumes of the enhanced classification will further improve the quality of coded clinical data. The Alphabetical Index (Volume II) is integral to the use of the classification when used in conjunction with the Tabular List (Volume I), which must be used as the primary coding tool.
Included in the pack are Volume I - Tabular List (ISBN 9780113229901) and Volume II - Alphabetical Index (ISBN 9780113229918). The pack offers a 10% saving against purchasing the two volumes separately and supersedes the OPCS 4.6 pack. Volumes I and II are available to buy individually, please see below for details.
Discounts are available to NHS staff: Please contact Customer Services on +44 (0)870 243 0123 to obtain your discount.

If you're interested in this, you might also be interested in:
Find similar publications here:

Show all Subjects & Categories