Preparations for the Roll-out of Smart Meters: Department of Energy and Climate Change
HC 1091, Report by the Comptroller and Auditor General, Session 2010-12
Author:

National Audit Office (NAO)

Publisher:

TSO (The Stationery Office)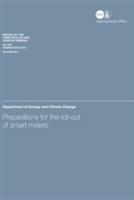 Add to Basket
'Preparations for the Roll-out of Smart Meters (HC 1091)' reports the National Audit Office's (NAO) concern that there are major risks the Department of Energy and Climate Change (DECC) must address to achieve value for money from its £11.3 billion national programme to install 'smart' electricity and gas meters in all homes and smaller non-domestic premises in Great Britain from 2014 to 2019.
Smart meters provide consumers with detailed information on their energy use and can enable energy suppliers to provide a wider range of off-peak tariffs as well as allowing suppliers to collect meter readings remotely.
The cost of installing smart meters in every home and smaller non-domestic premises and the associated communications technology will be borne by energy suppliers, passing on the costs and efficiency savings to their customers.
Uncertainties remain over the cost of the programme, and the Department still has to develop a specification for the central data and communications system.
The Department estimates the economic benefits at £18.6 billion between 2011 and 2030 (achieving a discounted net benefit of £7.3 billion). However, there is uncertainty about the extent to which smart meters will result in changed energy use by consumers over a sustained period.
Other risks that the NAO has highlighted are:
There is very little contingency time to address the risk that design approvals, procurement and testing might take longer than planned.

The system needs to be flexible enough to minimize the risk of future obsolescence.

The Department has more work to do on the security of the system.

Find similar publications here: