Deer Park Farms: The excavation of a Raised Rath in the Glenarm Valley, County Antrim
Northern Ireland Archaeological Monographs 9
Author:

Northern Ireland Environment Agency

Publisher:

TSO (The Stationery Office)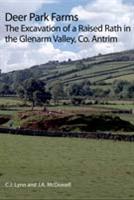 Add to Basket
'Deer Park Farms: The excavation of a Raised Rath in the Glenarm Valley, Co. Antrim' details the archeological excavation of an early Christian period mound in the Glenarm valley, County Antrim in Northern Ireland.
Key findings:
The excavation found a large area of enclosed settlements, associated houses and artefacts dating back to the 8th and 9th century AD.
Because of a waterlogging issue in the lower levels of the park a substantial amount of preserved organic and environmental material has been recovered. This is unusual as dry land sites do not often provide such quality remains.
The remains allow for unique insights into the way of life of rural Ulster during the Middle Ages.

Find similar publications here: