Building, Design & Infrastructure
Show me:
PSA Schedule of Rates for Building Works
Tenth Edition 2009
Author:

Carillion

Publisher:

TSO (The Stationery Office)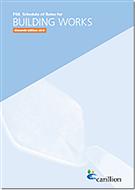 Add to Basket
The PSA Schedule of Rates for Building Works is one of the best known rate guides in the construction industry and is the standard document used in public sector construction work. This is the tenth edition of Building Works and contains completely updated rates and prices.
Building Works is the key reference for estimating, tendering and contracting work in the construction sector. This publication is an invaluable tool for benchmarking and ensuring that planned construction agreements are operated as cost effectively as possible.
It contains approximately 20,000 rates spanning across a range of building works and materials, from acid resisting asphalt flooring to zinc secret guttering.
Rates are complemented with specifications of the product, definition of terms where appropriate, any relevant notes and the method of measurement.
In this edition new British and European standards are also featured. Other new features in this edition include rates for additional insulation and Disability Discrimination Act (DDA) compliant items and 'green' roofs.

Related titles:
Find similar publications here:
Building, Design & Infrastructure

Show all Subjects & Categories