Building, Design & Infrastructure
Show me:
The Building Regulations 2010: Approved Document G - 2010 Edition
Sanitation, Hot Water and Water Efficiency
Author:

The Stationery Office (TSO)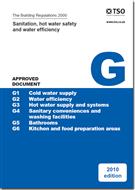 Add to Basket
Approved Document G provides guidance on observing the Building Regulations concerned with sanitation, hot water and water efficiency. This edition contains significant changes in legal requirements and technical guidance, making it an essential reference for anyone undertaking building work.
This Approved Document G (2009) came into force 6 April 2010 in support of the Building Regulations 2010.
The Building Regulations are concerned with protecting the health and safety of those in and around buildings. Anyone intending to carry out building work in England and Wales is required by law to obtain building control approval to ensure Regulations are complied with.
The Approved Documents provide technical guidance on ways of complying with the Building Regulations. They are continuously revised in line with new legislation. Therefore it is essential to keep fully updated with the latest editions and amendments.
Key Features:
Cold water supply

Water efficiency

Hot water supply and systems

Sanitary conveniences and washing facilities

Bathrooms

Kitchens and food preparation areas

Contains reference lists of Standards and other publications referred to

Hole punched for easy filing.
Supersedes The Building Regulations 2000: Approved Document G: Hygiene (ISBN: 9780117036406)
TSO Approved Documents are produced under licence from the Crown using content issued by CLG.
The Building Regulations 2010 - Approved Documents
Visit the Construction, Engineering & Planning > Building Regulations section of TSO Shop for the full range of TSO's 'Building Regulations 2010 - Approved Document' publications.

Find similar publications here:
Building, Design & Infrastructure

Show all Subjects & Categories