Building, Design & Infrastructure
Show me:
PSA Schedule of Rates for Decoration Work 2008
Eighth Edition
Author:

Carillion

Publisher:

TSO (The Stationery Office)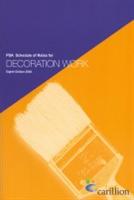 Add to Basket
This schedule provides a price guide to tendering for all aspects of decoration work, and includes chapters on: general directions; employer's requirements for temporary works; contractor's general cost items for temporary works; decorative papers and fabrics; painting and clear finishing; and signs and notices.
Key features:
The rates given reflect the costs of resources at the second quarter of 2007.

This is the 8th edition of the guide produced as a companion to the PSA Schedule of Rates series for estimating, tendering and contracting work in the construction industry.

Related titles:
Find similar publications here:
Building, Design & Infrastructure

Show all Subjects & Categories