Regulation Of Investigatory Powers Act 2000
HC 711, Eighth Report of Session 2014-15 - Report, Together with Formal Minutes Relating to the Report
Author:

House of Commons - Home Affairs Committee

Publisher:

TSO (The Stationery Office)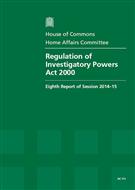 Add to Basket
This report 'Regulation Of Investigatory Powers Act 2000 (HC 711) addresses police forces' use of Regulation of Investigatory Powers Act 2000 (RIPA) powers to acquire communications data in the course of investigations.
In two recent, high-profile cases, police have used RIPA powers to obtain material which might be regarded as journalistic material for the purposes of the Police and Criminal Evidence Act 1984 (PACE).
In the Metropolitan Police's Operation Alice, which investigated the so-called Plebgate incident and subsequent events, the Metropolitan Police accessed a journalist's telephone records to establish whether the information provided to his newspaper might have emanated from within the Metropolitan Police Service.
In Operation Solar, which investigated a perversion of the course of justice by Constance Briscoe in relation to the trial of Rt Hon Chris Huhne and Vicky Pryce, the Kent police used RIPA powers to obtain material from Associated Newspapers Limited (ANL) after an application by the police for access to the material under PACE had already failed because ANL had successfully claimed in court that journalistic privilege applied.
The report concludes that RIPA is not fit for purpose, the recording of information under RIPA is insufficient, and the whole process appears secretive and disorganised, with information being destroyed afterwards.
Find similar publications here:

Show all Subjects & Categories