Draft Communications Data Bill
HL 79 and HC 479, Report, Session 2012-13 - Report, Together with Appendices and Formal Minutes
Author:

House of Lords and House of Commons - Joint Committee on the Draft Communications Data Bill

Publisher:

TSO (The Stationery Office)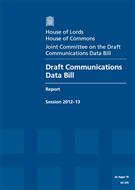 Add to Basket
In the report 'Draft Communications Data Bill (HL 79 and HC 479)' the Joint Committee finds that the draft Bill must be significantly amended to deliver only necessary data that law enforcement needs, and the Home Secretary should not be given carte blanche to order retention of any type of data.
Whilst calling for a narrower focus, the Committee recognises that more needs to be done to provide law enforcement and other agencies access to data they cannot currently obtain, and so makes a range of constructive proposals to enable the Home Office to present an improved Bill to Parliament.
It is recommended that there must also be better consultation with industry, technical experts, civil liberties groups, public authorities and law enforcement bodies before a new Bill is introduced.
Find similar publications here:

Show all Subjects & Categories