Privacy and Injunctions
HL 273 & HC 1443, Session 2010-12 - Report, Together with Formal Minutes, Minutes of Evidence and Appendices
Author:

House of Lords & House of Commons - Joint Committee on Privacy and Injunctions

Publisher:

TSO (The Stationery Office)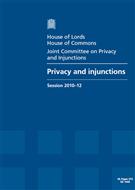 Add to Basket
The report 'Privacy and Injunctions (HL 273 & HC 1443)' concludes that Parliament should not introduce any new privacy statute. In weighing the competing rights to privacy and freedom of expression, each case must be judged on its own merits.
The bar for limiting freedom of expression must be set high, but the courts are now striking a better balance in dealing with applications for privacy injunctions. Criticism that the privacy law has been "judge-made", noting that it evolved from the Human Rights Act, is rejected.
The Committee advises that the most important step towards improving protection of privacy is to implement enhanced regulation of the media. The Press Complaints Commission lacked the power, sanctions or independence to be truly effective. Substantial changes to press regulation are needed to ensure that it encompasses all major news publishers including, in time, major bloggers.
The Committee makes several recommendations including that the reformed regulator should:
have access to a wider range of sanctions, including the power to fine;

be cost-free to complainants;

be able to determine the size and location of a published apology, and the date of publication; and

play a greater role in arbitrating and mediating privacy disputes.
One possible mechanism the Committee suggests advertisers agree upon, is to advertise only in publications that are members of the press regulator and subscribe to its rules.
It also concludes that parliamentarians should ensure that material subject to an injunction is only revealed in Parliament when there is good reason to do so.
Find similar publications here: