Recommendations on the Transport of Dangerous Goods: Model Regulations - 14th Revised Edition
Volumes I and II
Author:

United Nations (UN)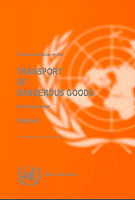 Add to Basket
This publication, 'Recommendations on the Transport of Dangerous Goods', also known as "Orange book", is the basis for the development of all international regulations concerning the international transport of dangerous goods as well as most of national legislations. This publication covers all mode of trnasport: road, sea and air.
The Model Regulations cover the classification of dangerous goods, their listing, the use, construction, testing and approval of packagings and portable tanks, as well as consignment procedures such as marking, labelling or placarding, and transport documentation.
This 14th Revised Edition contains various new and revised provisions concerning, inter alia:
the classification of substances hazardous to the aquatic environment;

toxic by inhalation substances;

refrigerated liquefied gases;

transport of solid substances in bulk containers;

infectious substances;

medical wastes;

genetically modified micro-organisms and transport of dangerous goods security.
This edition is of particular interest to those who would like to anticipate the regulatory changes that will occur in 2007, since these new and revised provisions should be integrated into the 2007 editions of modal, national and international regulatory instruments such as ADR, RID, ADN, IMDG Code, ICAO Technical Instructions, IATA Regulations and CFR49.
The Recommendations are supplemented by the 'Recommendations on the Transport of Dangerous Goods: Manual of Tests and Criteria 4th Edition', available below.
Find similar publications here: