Operation of the Family Courts
HC 518, Sixth Report of Session 2010-12 - Volume I: Report, Together with Formal Minutes
Author:

House of Commons - Justice Committee

Publisher:

TSO (The Stationery Office)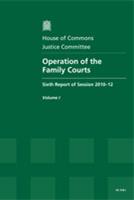 Add to Basket
'Operation of the Family Courts (HC 518)' warns that Family Courts will need to be more prepared to cope with litigants representing themselves following Government reforms to Legal Aid.
The Justice Committee calls on the Government to scrap the provisions in the Children, Schools and Families Act 2010 to allow media access to Family Courts following universal condemnation of the plans.
The report recommends that Ministers reformulate proposals to increase transparency in Family Courts putting the views of children centre stage.
The committee rejects the Family Justice Panel's Interim Report recommendation that a statement be introduced into legislation to "reinforce" the importance of a child having a meaningful relationship with both parents.
The committee believes it ought to be obvious to the courts, and to parents, that a child deserves a meaningful relationship with both parents but that inclusion of a statement in the law could create confusion and the mistaken impression the law had changed.
Judges should reduce the costs and delays in case management associated with expert reports and should be encouraged to, where possible, insist on joint reports and require clear explanations of why additional assessments are needed, ensuring the parties' solicitors work together to reduce the number of questions for the expert.
Government plans to fold Cafcass into the proposed new Family Justice Service do not go far enough, according to the report.
The committee calls for this to be the first step in a series of reforms designed to transform the body into a less process-driven, more child focused and integral part of family justice.

Related titles:
Find similar publications here:

Show all Subjects & Categories