The Work of The Committee In The 2010 Parliament
HC 1128 , Twelfth Report of Session 2014-15 - Report, Together with Formal Minutes Relating to the Report
Author:

House of Commons - Political and Constitutional Reform Committee

Publisher:

TSO (The Stationery Office)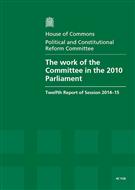 Add to Basket
The Political and Constitutional Reform Select Committee was established in June 2010 to consider political and constitutional reform; the report 'The Work of The Committee In The 2010 Parliament (HC 1128)' examines their effectiveness over the past five years.
The Government's reforms programme included:
fixing the term of a Parliament;

bringing forward proposals for recalling MPs;

establishing a register of third party lobbyists; and

implementing Individual Electoral Registration.
The establishment of a dedicated select committee to consider these matters has brought additional parliamentary scrutiny to a substantial part of the Government's programme. Should the next Government plan to take forward constitutional reform, it is recommended that a select committee be established to examine the Government's proposals, to keep the progress of any political and constitutional reform under regular review, and to continue the work this Committee has undertaken.
The Committee has also highlighted the extent to which it has engaged the public with its work through consultations and increased use of social media, online surveys and informal events. This public engagement is one of its greatest innovations and something which it encourages other committees to adopt in the future.
Find similar publications here: