Blacklisting In Employment: Final Report
HC 272, Seventh Report of Session 2014-15 - Report, Together with Formal Minutes Relating to the Report
Author:

House of Commons - Scottish Affairs Committee

Publisher:

TSO (The Stationery Office)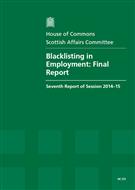 Add to Basket
The Scottish Affairs Committee conclude that a voluntary code of conduct to eradicate the practice of blacklisting in the future is insufficient, and a statutory code of practice is required, according to their report 'Blacklisting In Employment: Final Report (HC 272)'.
Although the Committee is highly critical of the scheme and casts doubt over the motivations behind it, it does acknowledge that it is only those eight companies who set up the scheme - out of the 30 known to have used the services of The Consulting Agency (TCA) that ran the blacklisting service - who have taken any steps at all to remedy the sins of the past.
The Committee identifies a series of flaws in the scheme, including:
It was launched without the agreement of the trade unions (and its launch attempted to mask that fact);

the low levels of compensation being offered; the fact that those participating in the High Court litigation are not eligible to access the scheme; and

the scheme's failure to incorporate any type of positive action measures to up-skill and re-employ the victims of blacklisting.
This final report identifies that many questions in relation to the practice of blacklisting remain unanswered, including the recent allegations in relation to police and security service involvement in blacklisting in the construction and other sectors. The Committee is specifically concerned as to whether the extent and breadth of the practice is fully known, and whether this odious practice is ongoing within the construction industry.
The Committee is convinced that the only way to fully answer these questions is through a full Public Inquiry and it recommends that the Government take immediate steps to launch one.
Find similar publications here: