Towards The Next Strategic Defence And Security Review: Part Three
HC 1127, Twelfth Report of Session 2014-15 - Report, Together with Formal Minutes Relating to the Report
Author:

House of Commons - Defence Committee

Publisher:

TSO (The Stationery Office)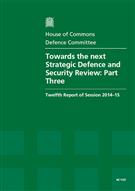 Add to Basket
The report 'Towards The Next Strategic Defence And Security Review: Part Three (HC 1127)' concludes the Committee's work on the next Strategic Defence and Security Review (SDSR), summarises the contribution of the Committee's recent reports, and raises a number of questions that the Committee believes need to be addressed in the next SDSR.
As an Annex to this report, the Committee is also publishing an analysis of how it has addressed the 10 Core Tasks set for Departmental Select Committees by the House of Commons Liaison Committee.
The Committee would like to see the Government response to its questions embedded in the next SDSR.