Re-thinking Defence To Meet New Threats
HC 512, Tenth Report of Session 2014-15 - Report, Together with Formal Minutes Relating to the Report
Author:

House of Commons - Defence Committee

Publisher:

TSO (The Stationery Office)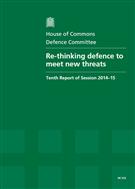 Add to Basket
According the report 'Re-thinking Defence To Meet New Threats (HC 512)' the Strategic Defence and Security Review (SDSR), and the plans to develop the Future Force 2020 no longer reflect the new threats to peace around the world.
For the first time in twenty years an advanced military state has challenged the borders of European nations, and the security challenges in the Middle East, Africa, and South Asia have increased dramatically in scale and complexity. Serious instability persists in Darfur, Somalia, the Central African Republic, and Pakistan. Three million people have been displaced and two hundred thousand killed in Syria.
The Committee believes that the UK cannot afford to ignore these challenges and retreat to isolation. Global peace and security is of immense importance to the world and to the UK itself. The UK occupies a key leadership role in international organisations, and still has the capacity to play a deeply constructive role in preserving and restoring security.
The report sets out four major tasks to bring the UK Defence into line for the future:
(i) rebuild its conventional capacities reduced since the Cold War;

(ii) work to build the strength and closeness of its partnerships in coalition;

(iii) develop new capabilities to respond to the threat from "next-generation" or asymmetric (also described as ambiguous) warfare; and

(iv) develop the capacity to respond to an expanding series of challenges outside Europe, including terrorism, brutal authoritarian regimes, extremist groups holding large territories as pseudo-states, state collapse, civil war, and state fragility.