Police Bail
HC 962, Seventeenth Report of Session 2014-15 - Report, Together with Formal Minutes relating to the Report
Author:

House of Commons - Home Affairs Committee

Publisher:

TSO (The Stationery Office)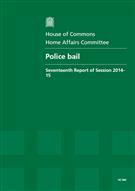 Add to Basket
'Police Bail (HC 962)' examines the current standards for police bail, or pre-charge bail, which is a tool that allows the police to continue an investigation without detaining the suspect in custody.
The two common situations in which the police use pre-charge bail are:
a) where there is insufficient evidence to charge a suspect, and the police wish to continue to investigate without keeping the suspect in custody; and
b) where the police have passed the file to the CPS for a charging decision.
Being arrested and held on bail is no indication of guilt. It means the police have acted upon a reasonable suspicion, carried out an arrest, and wish to continue to investigate the allegation without holding the suspect in custody. Pre-charge bail has been criticised because there are no limits on the length of time that someone can be bailed or the number of times they can be re-bailed, and the suspect cannot challenge the imposition of bail.
This concern has led to two consultations:
the first in March 2014 by the College of Policing on the operational use of pre-charge bail, introducing common standards and standardising use across all forces.

the second consultation, initiated by Home Office in December 2014, is considering the introduction of statutory time limits on the use of pre-charge bail.
Find similar publications here: