Private Rented Sector: The Evidence From Banning Letting Agents' Fees In Scotland
HC 964, Eighth Report of Session 2014-15 - Report, Together with Formal Minutes Relating to the Report
Author:

House of Commons - Communities and Local Government Committee

Publisher:

TSO (The Stationery Office)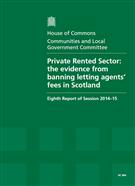 Add to Basket
The report 'Private Rented Sector: The Evidence From Banning Letting Agents' Fees In Scotland (HC 964)' follows up one issue left from the Committee's 2013 report on the Private Rented Sector (see below): whether or not England should follow Scotland and introduce a ban on letting agents charging fees to tenants other than rents and refundable deposits.
The change in Scotland had only been made in November 2012 and when the Committee reported in July 2013 views on its impact were speculative and varied widely. The Committee therefore decided to wait two years from its introduction and seek hard evidence on the impact of the change in Scotland.
The Committee sought evidence from a number of organisations representing tenants, agents and landlords in Scotland and have examined relevant published reports. The Committee concludes that the evidence available is not strong enough to reach a view on the impact of the ban on fees in Scotland.
In addition, the issues around fees that were raised in the original inquiry are more broadly based than simply fees to tenants, as they affect the overall role of agents in the market and the transparency of that market.
The Committee therefore call on the Department for Communities and Local Government to commission a comprehensive impact assessment of the effects of the introduction of a ban on agents' fees in England.
Find similar publications here: