Children In Care
HC 809, Forty-fourth Report of Session 2014-15 - Report, Together with Formal Minutes Relating to the Report
Author:

House of Commons - Committee of Public Accounts

Publisher:

TSO (The Stationery Office)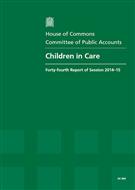 Add to Basket
The Department for Education (DFE) holds policy responsibility for children in care, and has national oversight of the local authorities who provide the services for these children. The report 'Children In Care (HC 809)' concludes that the DFE should set out how it will lead and work with others to improve the outcomes for children by improving the quality of care.
Although the DFE is clearly best placed to provide the leadership required in many cases, it shows an alarming reluctance to play an active role in securing better services and outcomes for children in care. It chooses to limit its role to passing legislation, publishing guidance and intervening after Ofsted has failed a local authority service.
The DFE does far too little to disseminate actively what works and to support authorities to improve before they are failed by Ofsted. It sits on a wealth of information and knowledge which it fails to use in an active way to support better outcomes for this most vulnerable group of children.
While 62% of children in care have suffered abuse and neglect, too many still do not get the right placement first time, too many are moved too often, and too few are placed close to their homes.
Find similar publications here: