Police Information Notices
HC 901, Fifteenth Report of Session 2014-15 - Report, Together with the Formal
Author:

House of Commons - Home Affairs Committee

Publisher:

TSO (The Stationery Office)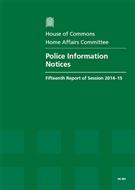 Add to Basket
The report 'Police Information Notices HC 906)' examines the issuing of Police Information Notices (PINs), which are designed to prevent harassment.
PINs have no statutory basis and do not themselves constitute any kind of formal legal action. The Police may issue a PIN where there are allegations of harassment. There is no formal police procedure that must be followed, and no set time limit during which they have effect.
PINs are not formal police cautions, and signing one does not imply that the alleged harassment has taken place. However, the police may use them in future legal proceedings.
Data on PINs issued by police services in England and Wales are not collected centrally and are owned by the individual police force that issued the notice.
PINs are an operational matter left up to each force and this has resulted in examples of inconsistent use between forces, as well as within forces themselves. In the past year, around 900 PINs were issued in Greater Manchester, 1,500 in Sussex, and 2,900 in Thames Valley.
There is no sharing of information between police forces on PINs, which strongly undermines Chief Constables' ability to assess their force's usage. Each force should publish the number of PINs issued on their websites on a monthly basis.
Find similar publications here: