Out-Of-Court Disposals
HC 799, Fourteenth Report of Session 2014-15 - Report, Together with Formal Minutes
Author:

House of Commons - Home Affairs Committee

Publisher:

TSO (The Stationery Office)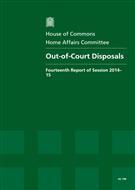 Add to Basket
The report 'Out-Of-Court Disposals (HC 799)' concludes that out-of-court disposals (OOCDs) can provide the police with simple, swift and proportionate responses to low-risk offending, which they can administer locally without having to take the matter to court.
As a quick and effective means of dealing with less serious offences, they enable police officers to spend more time on frontline duties and on tackling more serious crime. Additionally, OOCDs can often represent an effective response to offending that can focus on the needs of the victim.
There are currently six ways in which offences can be addressed by the police without the matter proceeding to court (excluding no further action):
Cannabis Warnings: a formal warning from a police officer for simple possession of cannabis for personal use;

Fixed Penalty Notices (FPNs);

Penalty Notices for Disorder (PND): an offender is offered the chance by a police officer to pay a fixed penalty of £50 or £80 to discharge liability for an offence and avoid a court appearance;

Simple Cautions: a formal warning from a police officer following an admission of guilt;

Conditional Cautions: a caution with conditions attached (issued to tackle offending behaviour, provide reparation and enable compensation to be paid to victims, where appropriate - failure to comply with the conditions will usually result in prosecution for the original offence); and

Community Resolutions.
Find similar publications here: