Appointment Of The Chair Of The Independent Inquiry Into Sexual Abuse
HC 710, Twelfth Report of Session 2014-15 - Report, Together with Formal Minutes
Author:

House of Commons - Home Affairs Committee

Publisher:

TSO (The Stationery Office)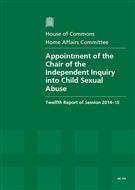 Add to Basket
On 7 July 2014, the Home Secretary announced the establishment of an Independent Panel Inquiry to consider whether public bodies and non-state institutions had taken seriously their duty to protect children from sexual abuse. 'Appointment Of The Chair Of The Independent Inquiry Into Sexual Abuse (HC 710)' examines the process of appointing the Chair of the inquiry.
Baroness Butler-Sloss, former President of the Family Division of the High Court, was appointed Chair of the panel on 8 July, but she stepped down on 14 July after MPs and survivor groups expressed concerns about the possibility that the inquiry might have to consider decisions taken by her late brother, Sir Michael Havers, as Attorney General in the 1980s.
Fiona Woolf CBE JP, the Lord Mayor of London, was appointed Chair on 5 September, but stepped down on 31 October after concerns were raised about her social contacts with Lord and Lady Brittan.
On 4 February 2015, the Home Secretary announced plans to appoint Justice Lowell Goddard, a judge of the High Court of New Zealand, as the new Chair of the inquiry. She also announced that she would be dissolving the existing Panel and establishing a new, statutory inquiry under the Inquiries Act 2005.
Prior to the announcement of the new proposed Chair, the Committee took oral evidence about the panel inquiry During those evidence sessions witnesses' views were heard on the Home Office's process for selecting candidates for the new chair. There were well-publicised problems with the appointment of the Panel, which resulted in the early resignation of two previous Chairs. It is important that a Chair is now appointed who will command the confidence of survivors.
Find similar publications here: