Transforming Contract Management
HC 585, Twenty-third Report of Session 2014-15 - Report, Together with Formal Minutes Relating to the Report
Author:

House of Commons - Public Accounts Committee

Publisher:

TSO (The Stationery Office)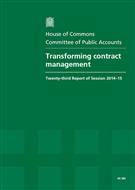 Add to Basket
'Transforming Contract Management (HC 585)' examines the record of private companies in providing services to the public sector, and of the Government in managing the contracts.
Public services provided by private companies are complex, and worth around £90 billion, which represents half of public sector expenditure on goods and services. The public needs to have confidence that contracts are managed well by both Government departments and the contractors themselves.
The case of G4S and Serco overcharging the Ministry of Justice for years on electronic tagging contracts was the starkest illustration of both contractors' failure to work in the public interest and government failure to safeguard taxpayers' money. It has served as a belated wake up call and, led by the Cabinet Office, the Government is now working to improve the way it manages its suppliers and contracted-out providers of public services.
The report sets out key areas for attention, including:
contractors not showing an appropriate duty of care in the use of public funds;

quasi-monopoly suppliers squeezing out competition, often from smaller companies with specific experience; and

the way government contracts gives too much advantage to the contractors.
Find similar publications here: