Child Sexual Exploitation In Rotherham: Some Issues For Local Government
HC 648, Third Report of Session 2014-15 - Report, Together with Formal Minutes Relating to the Report
Author:

House of Commons - Communities and Local Government Committee

Publisher:

TSO (The Stationery Office)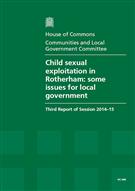 Add to Basket
'Child Sexual Exploitation In Rotherham: Some Issues For Local Government (HC 648)' is a preliminary examination raising questions about local government accountability and governance following the publication of Professor Alexis Jay's Independent Inquiry into Child Sexual Exploitation in Rotherham 1997-2013.
Although focused on Rotherham, the Independent Inquiry suggested widespread organised child sexual exploitation across England.
The Committee sees a need for arrangements to bring to account officers still in post or who have moved on from an authority when serious questions about their past performance emerge.
These arrangements have to balance accountability and fairness. In the case of Rotherham the Committee calls for an investigation into the reasons that key documents covering 1999 to 2003 and of prime importance to establish what went wrong within the authority are missing.
Find similar publications here: