Reform Of The Police Federation
HC 1163, Eighteenth Report of Session 2013-14 - Report, Together With Formal Minutes Relating To The Report
Author:

House of Commons - Home Affairs Committee

Publisher:

TSO (The Stationery Office)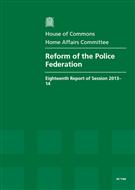 Add to Basket
The Home Affairs Committee have been shocked by the scale of bullying that was uncovered at the Police Federation's Headquarters, according to the report 'Reform Of The Police Federation (HC 1163)'
It is disgraceful that any Chairman should have been hounded out for championing the long-overdue reforms set out in the Normington Report. Only a new National Chair, elected directly by the Federation's rank-and-file members, will have the authority to implement these changes in full.
At a local level, while some smaller branches struggle financially others have accumulated reserves which add up to around £35 million, some of it in obscure "No. 2" accounts. A new funding formula with subscriptions going straight to the centre and being distributed to branches would remedy this.
Federation funds should serve the Members and the public directly, not the organisation itself. Police officer's from every corner of England and Wales should receive an immediate rebate on their current subscriptions which have accumulated into unnecessary reserves of around £70 million, and a subscription freeze should follow for the next year.
There needs to be full transparency of all the Federation's accounts at both national and local level. Our police service is the best in the world, but its reputation has been extensively damaged by the Federation suffering a sustained period of self inflicted harm.
Find similar publications here: