Police And Crime Commissioners: Progress To Date
HC 757, Sixteenth Report of Session 2013-14 - Report, Together with Formal Minutes
Author:

House of Commons - Home Affairs Committee

Publisher:

TSO (The Stationery Office)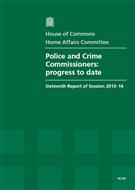 Add to Basket
The concept of Police and Crime Commissioners (PCCs) is still very much on probation; 'Police And Crime Commissioners: Progress To Date (HC 757)' concludes that some Commissioners have fallen well short of the public's expectations and urgent reforms are needed to ensure that this concept does not put at risk public trust and engagement in the police, the very objectives for which PCCs were brought in.
The report recommends that new Commissioners should have a transition period of one month between election and taking office. The hiring of deputies and the decision to remove chief constables are critical decisions for local communities and it is vital that the amount of scrutiny applied to commissioners by police and crime panels increases.
Panels' powers must be strengthened and extended to ensure that any decision to remove a chief constable is the right one for the public; only this will provide full public confidence. Deputies should not be cronies that are given their job on the basis of nepotism, and Panels should have the power of veto over the appointment of a deputy commissioner, where they have not stood for election alongside the commissioner. By electing Deputies on the same ticket we ensure that the public will be able to have their say on someone who often acts with the powers of the Commissioner.
Though good working relationships between chief constables and PCCs are welcomed, the arrangement should never be too cosy. The setting of targets by PCCs must not promote the manipulation of crime figures and all PCCs should review their auditing arrangements immediately.
Find similar publications here: