Putting Passengers First: Disruption At Gatwick, Christmas Eve 2013
HC 956, Fourteenth Report of Session 2013-14 - Report, Together with Formal Minutes Relating to the Report
Author:

House of Commons - Transport Committee

Publisher:

TSO (The Stationery Office)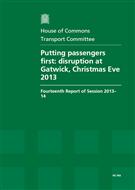 Add to Basket
The report 'Putting Passengers First: Disruption At Gatwick, Christmas Eve 2013 (HC 956)' concludes that better contingency planning and preparedness must be put in place by UK airports, and by the airlines that use them, to prevent the kind of chaos that unfolded at Gatwick Airport on Christmas Eve 2013. Those problems were not new and the whole event should inspire airports across the UK to improve their operational resilience.
Airports must ensure that their contingency planning is good enough to ensure that future disruption will be met with well drilled arrangements that are familiar to airport operators, airlines and other contractors, and which put passenger interests first. If our largest airports cannot demonstrate they can do this then the Civil Aviation Authority must act. Passengers must also be promptly reimbursed for the extra costs they face as a consequence of disruption.
The Committee welcoms a key conclusion from Gatwick's own review of the events on Christmas Eve that the airport should appoint passenger champions at each of its terminals. Similar arrangements should also be put in place at other major UK airports.
Further recommendations include that airports should:
develop (in consultation with airlines) much clearer operational protocols and guidance on the threshold conditions that will trigger the cancellation or postponement of flights; and

negotiate robust agreements with airlines (which carry formal responsibility for passenger welfare) for reclaiming the costs of looking after passengers during periods of disruption.
The Government should also push for amendments to a proposed new EU regulation on passenger compensation to include electronic means of alert and information dissemination.
Find similar publications here: