The Work Of The Immigration Directorates (April-September 2013)
HC 820, Fifteenth report of Session 2013-14 - Report, Together with Formal Minutes and Oral Evidence
Author:

House of Commons - Home Affairs Committee

Publisher:

TSO (The Stationery Office)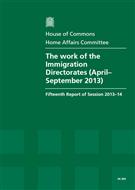 Add to Basket
The report 'The Work Of The Immigration Directorates (April-September 2013) (HC 820)' examines the performance of agencies responsible for immigration following the closure of the UK Border Agency.
The report concludes that:
The government's decision not commission an estimate of the number of Romanians and Bulgarians likely to come to the UK after 1 January 2014 was a mistake that led to unnecessary anti-immigrant prejudice;
The Committee will ask the Migration Advisory Committee to commission such estimates in future if the government fails to do so;
Proposed changes to the Tier 1 Investor route to settlement could result in the UK selling settlement by auction. There are several difficulties with the process, which combined the reduction in standards for those gaining citizenship will lead to problems in the future;
The establishment of full border checks to prevent illegal immigration remains an issue. There is a danger that dangerous criminals could have entered the UK without the knowledge of the authorities; and
There are serious concerns with the Migration Refusal Pool. The Home Office has contracted Capita to find where over 30,000 people are without having to do anything to remove them. This work could have been carried out directly by the Home Office.
Find similar publications here: