Vaccination Against Bovine TB
HC 258, Second Report of Session 2013-14 - Volume I: Report, Together with Formal Minutes, Oral and Written Evidence
Author:

House of Commons - Environment, Food and Rural Affairs Committee

Publisher:

TSO (The Stationery Office)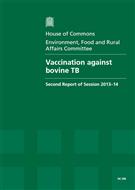 Add to Basket
The Committee report 'Vaccination Against Bovine TB (HC 258)' warns that vaccination against bovine TB (tuberculosis) is expensive, offers no guarantee of protection and will provide little benefit in the immediate future.
More than £58 million has been invested in vaccine research and development since 1994. Deployment of the injectable badger vaccine will cost an estimated £2-4000 per km2. The cattle vaccine is expected to cost £5-6 per dose and the DIVA (Differentiation of Infected and Vaccinated Animals) test costs £25.
Small-scale studies to test the efficacy of a vaccine in cattle overseas have shown the protective effect to be between 56-68%, a level of protection that won't immediately solve the problems of bovine TB in the cattle industry.
The UK needs more reliable skin tests than the current one that could miss one in four infected cows. An injectable vaccine for badgers, Bacille Calmette-Guérin (BCG), is now available but it does not confer complete protection, and has no discernible effect on animals already infected with TB.
An oral baited vaccine that can be laid at setts is likely to be cheaper and more practical, but development and deployment will take several years to resolve.
Ongoing research projects to eradicate bovine TB in the UK include:
PCR (Polymerase Chain Reaction ) testing to determine infected badger setts;

a new type of test to identify bovine TB in cattle after slaughter; and

work on a vaccine that does not interfere with the skin test.
Find similar publications here: