Police And Crime Commissioners: Register Of Interests
HC 69, First Report of Session 2013-14 - Volume I: Report, Together with Formal Minutes
Author:

House of Commons - Home Affairs Committee

Publisher:

TSO (The Stationery Office)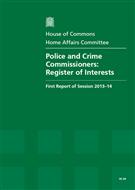 Add to Basket
The report 'Police and Crime Commissioners: Register Of Interests (HC 69)' includes the first register of interests for Police and Crime Commissioners (PCCs), and outlines the need for more effective scrutiny.
The Committee finds that:
While a system of local scrutiny may be appropriate for PCCs, the public cannot possibly judge whether their PCC is upholding the standards of the office and giving a good return on investment, unless they make a comparison with other PCCs.

A national register is vital for local accountability. Police and Crime Panels must redouble their oversight of PCCs. Some have failed to meet the deadline for publishing information online, but there is no one in Government keeping track.

There is a need to guard against maverick decision-making. A chief constable has been suspended without consultation in Lincolnshire, the PCP in Kent and other areas have made controversial personal and political appointments without scrutiny, and some PCCs have second, third and even fourth jobs.
Since PCCs have national responsibilities as well as local, they should meet the same standards of disclosure as chief constables. In future, the Government must commission a full register from an independent national body, such as HM Inspectorate of Constabulary.
Find similar publications here: