Budget 2013
HC 1063, Ninth Report of Session 2012-13 - Report, Together with Formal Minutes, Oral and Written Evidence
Author:

House of Commons - Treasury Committee

Publisher:

TSO (The Stationery Office)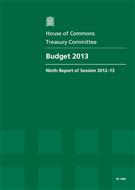 Add to Basket
The Committee report 'Budget 2013 (HC 1063)' contains 46 conclusions and recommendations for the Government and focuses on the subjects of: macroeconomy, the public finances, monetary policy, taxation, departmental spending, housing, the energy policy, the premature disclosure of budget information and Parliamentary timing.
Particular attention is paid to the Help to Buy housing policy, which is considered a work-in-progress that may have unintended consequences, and may not help first-time buyers. The Committee poses a number of questions for the Chancellor on the policy, and whether overall, if the Government's priority was housing supply, its housing measures should have been concentrated there.
On energy it is unclear which Government Department is in the lead for energy policy, and the report calls for this lack of clarity to be addressed.
Changes to the monetary policy remit announced by the Chancellor at the time of Budget 2013 create uncertainty. Tax complexity and instability remain of considerable concern. The Committee will monitor whether the Government's anti-avoidance measures succeed in generating the revenue predicted of them.
In addition, the Committee invited comments from three accounting bodies on how Budget 2013 meets the Committee's tax policy principles on basic fairness to support growth and encourage competition with certainty, simplicity, stability, practicality and coherence.
Find similar publications here: