Tax Avoidance: The Role Of Large Accountancy Firms
HC 870, Forty-fourth Report of Session 2012-13 - Report, Together with Formal Minutes, Oral and Written Evidence
Author:

House of Commons - Committee of Public Accounts

Publisher:

TSO (The Stationery Office)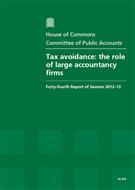 Add to Basket
The report 'Tax Avoidance: The Role Of Large Accountancy Firms (HC 870)' examines the difficulties in combating tax avoidance schemes that allow some multinational companies to pay little corporation tax, despite doing a large amount of their business in the UK.
Of particular concern is the role of tax advisors in helping individuals and companies to avoid tax. HM Revenue and Customs (HMRC) are under-resourced in comparison to large accountancy firms who offer this kind of advice, leaving HMRC appearing to be fighting a battle it cannot win.
The four accountancy firms Deloitte, Ernst and Young, KPMG, and PwC earn £2 billion each year from their tax work in the UK. They employ nearly 9,000 people just to provide tax advice aimed at minimising tax paid, and boast 250 transfer pricing specialists between them. HMRC has only 65 people working in this area.
The report makes six main conclusions:
(i) the UK tax system is too complex and a more radical approach to simplification is needed;
(ii) there is no clarity over where firms draw the line between acceptable tax planning and aggressive tax avoidance;
(iii) it is inappropriate for individuals from firms to advise on tax law and then devise way to avoid tax;
(iv) tax laws are out of date and need revising;
(v) greater transparency over companies' tax affairs would increase the pressure on multinationals to pay a fair share of tax in the countries where they operate; and
(vi) HMRC is not able to defend the public interest effectively when its resources are more limited than the big four firms.
Find similar publications here: