The Draft Anti-Social Behaviour Bill: Pre-legislative Scrutiny
HC 836-I, Twelfth Report of Session 2012-13 - Volume I: Report, Together with Formal Minutes
Author:

House of Commons - Home Affairs Committee

Publisher:

TSO (The Stationery Office)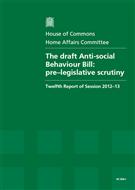 Add to Basket
'The Draft Anti-Social Behaviour Bill: Pre-legislative Scrutiny (HC 836-I)' examines the draft Anti-Social Behaviour Bill which was published on 13 December 2012 (see below), and declares the Government's intention to tidy up the tool-kit for dealing with Anti-Social Behaviour (ASB), and to involve victims and communities more directly in dealing with the problems.
Conclusions of the Committee included:
(i) Rationalising the number of ASB powers is welcome;
(ii) Key elements necessary to tackle ASB are missing: good inter-agency working, intelligent information sharing and a network of services;
(iii) The move away from automatic criminalisation for breach of an Injunction is positive, but the powers are far too wide;
(iv) The 'Community Remedy' must not 'become the modern pillory or stocks': officers must have the discretion to choose alternative disposals;
(v) The 'Community Trigger' will not be effective against persistent ASB unless there is a national limit on the number of complaints that can be made before action is taken.
Recommendations for the draft Bill are to:
strengthen the Community Trigger so that authorities that do not deal with ASB are identified and held to account;

set up a new National Anti-social Behaviour Forum headed by a chief constable, a housing association chief executive, and a local council leader, for a term of two years; and

end the arms race against Anti-social Behaviour by setting reasonable limits on the behaviour covered by the new powers.
Find similar publications here: