Contamination Of Beef Products
HC 946, Eighth Report of Session 2012-13 - Volume I: Report, Together with Formal Minutes
Author:

Environemnt, Food and Rural Affairs Committee

Publisher:

TSO (The Stationery Office)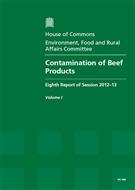 Add to Basket
The report 'Contamination Of Beef Products (HC 946)' examines how the current arrangements for testing and control across the European food industry have failed UK consumers. The Food Standards Agency (FSA) needs clear powers and responsibilities so that it can respond more effectively to any future food adulteration scandal.
The Committee's short inquiry into contamination of beef products by horsemeat and pork follows a growing problem of food adulteration across Europe, first reported from Ireland in January 2013.
The report recommends:
the FSA be given the statutory powers to require producers to undertake testing, taking into account the level of risk;

all testing results must be reported to the FSA whether they are mandated by the FSA or carried out independently; and

a broader range of testing to provide greater assurance to consumers.
The Committee warns the Government that it should not propose to reduce the labelling standards applied to British food. Moreover, the findings to date are likely to be the tip of the iceberg.
The indications that people have intentionally substituted horsemeat for beef lead the Committee to conclude that British consumers have been cynically and systematically duped in pursuit of profit by elements within the food industry.
Find similar publications here: