The Work of the Border Force
HC 523, Sixth Report of Session 2012-13 - Report, Together with Formal Minutes
Author:

House of Commons - Home Affairs Committee

Publisher:

TSO (The Stationery Office)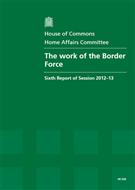 Add to Basket
'The Work of the Border Force (HC 523)' reports that maximum queue times at major UK ports have been consistently too high for the last 12 months; some carriers are resigning themselves to reducing their revenue because Border Force lacks capacity.
Many airlines have years of experience in providing advanced passenger information to the United States and are now obliged to provide advanced information to e-Border, although this information is not always used optimally.
The Committee recommends that Border Force:
adopt a target for reducing the maximum queuing times;

adopt a more frequent measurement of queues in order to improve accuracy and to inform staff rostering decisions;

install 'waiting time' boards in all arrivals halls at major ports;

keep E-gates operational at all times when flights are arriving; and

if the control room at Heathrow continues to be a success, then adopt the model at other major ports where appropriate.
The report also calls upon the Home Office to reintroduce the risk based entry check pilot, and carry out a full reappraisal of the number of Border Force staff needed across the UK to continue 100% entry checks for all passengers.
There was concern that the Border Force has been unable or unwilling to provide comparable data on:
(i) the number of drug seizures carried out in April 2011 and April 2012;
(ii) the number of passengers about whom security alerts were issued to the Border Force that were actually encountered trying to enter the UK; or
(iii) the number of illegal migrants trying to enter the UK through the 'Lille Loophole'.
Find similar publications here: