Climate Change: The "Citizen's Agenda"
HC 88-I, Eighth Report of Session 2006-07 – Volume I: Report, Together with Formal Minutes
Author:

House of Commons – Environment, Food and Rural Affairs Committee

Publisher:

TSO (The Stationery Office)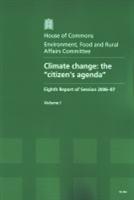 Add to Basket
Raising awareness and encouraging citizen involvement at a domestic level is fundamental to tackling climate change. People need to adopt a mentality that wasting energy is simply wrong. The Government and its organisations must encourage individuals and communities to use their own ingenuity and money to reduce emissions.
'Climate Change: The "Citizen's Agenda" (HC 88-I)' examines:
information and the raising of awareness about climate change;

household energy efficiency;

microgeneration;

economic instruments and personal carbon allowances; and

the role of the government and the government estate.
Feed-in tariffs for household microgeneration of renewable energy should be available. The existing combination of grants and Renewable Obligation Certificates is far too unreliable and unwieldy for domestic and community microgeneration, and risks losing citizen engagement. 'UK plc' may be missing out on valuable business opportunities that come with being a market leader in microgeneration technologies. Environmental taxation has an important role to play in driving up demand for environmentally beneficial goods and services, but much more needs to be done to improve the credibility of 'green taxes'.
Defra must do more to ensure other parts of Government pay attention to the climate change aspects of all that they do. There is an important role for public buildings and public investment in leading the way by example, but very little evidence of this taking place. The Government's – and Parliament's – poor record regarding its own estate fails to set a good example. The public sector continues to miss a valuable opportunity to demonstrate the financial and environmental savings that can be made.
The accompanying 'Climate Change: The "Citizen's Agenda" – Volume II: Oral and Written Evidence (HC 88-II)' (ISBN 0215036093) is available to buy separately, see below.
Find similar publications here: