Pensions: Challenges and Choices
The First Report of the Pensions Commission (Vol. I)
Author:

Pensions Commission

Publisher:

TSO (The Stationery Office)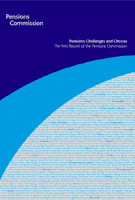 Add to Basket
This report presents the findings of a comprehensive analysis of the UK pensions and retirement savings system. It describes in detail the present situation, the trends in place, and the challenges which need to be met.
The Pensions Commission is an independent body set up in December 2002 with the remit of keeping under review the adequacy of private pension saving in the UK. Its job is to advise government on appropriate policy changes, including on whether there is a need to "move beyond the voluntary approach." The Pensions Commissioners are Adair Turner, chair, Jeannie Drake and John Hills.
This detailed and fact-based report is intended to stimulate debate as the Commission now enters a consultation phase which is open to all interested parties. The Commission intends to publish its specific recommendations on policy in Autumn 2005.
This main report (Vol. I) should be read in conjuntion with the appendices (Vol. II) in order to gain a full understanding of the issues. A pack including both volumes is available to purchase below. Please note, Volume II (the appendicies) is not available to purchase separately.
For more details visit: www.pensionscommission.org.uk