Security Management (German Translation) PDF
10th impression
Author:

Office of Government Commerce (OGC)

Publisher:

TSO (The Stationery Office)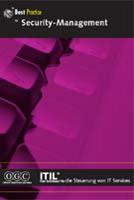 Add to Basket
Information is one of the most important assets for business. Without it only a few processes are able to perform as intended. The sharing of information with other organisations, which enables quick and automated processing, increases that importance.
For information technology (IT), information is the core of its existence. Anything that threatens information or the processing of that information will directly endanger the performance of the organisation. Whether it concerns the confidentiality, accuracy, or timeliness of the information, the availability of processing functions or confidentiality, threats that form risks have to be countered by security. The aspects mentioned are structural for IT. That means that there are structural risks. Structural risks require structural security.
ITIL provides a foundation for the management of the IT Infrastructure. Security Management is primarily responsibility of the business, with the IT Security Officer responsible for setting Security Policy. This title looks at Security from the service provider standpoint. It defines how Security Management relates to the IT Security Officer and provides the level of security necessary for the provision of the total service to the organisation.
A PDF allows for easy access while you're on the move:
Single user

Non-networkable

Basic downloadable PDF: searchable with a bookmarking function.
Electronic Publications: This is an electronic publication in PDF. For more information on purchasing and downloading electronic publications please visit the Downloads section within the help pages.
»» Happy 20th Birthday ITIL! Celebrate with 20% off ITIL titles for November only ««
Order this publication online during November and receive a 20% discount. To receive your discount, enter 'IT20' into the promotional code field within the shopping basket and select 'Apply' to apply your discount.
Extent
120 pages
ISBN
9780113311538
Size
7.28Mb
Price

£44.95

Format
Downloadable PDF
Published
05 May 2009
Availability

Out of Print: but may be available to order

Related titles:

Show all Subjects & Categories