Capital Markets Union: A Welcome Start
HL 139, Eleventh Report of Session 2014-15
Author:

House of Lords - European Union Committee

Publisher:

TSO (The Stationery Office)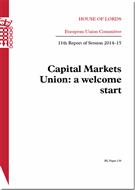 Add to Basket
The European Commission's proposals for a Capital Markets Union are a welcome and necessary step in promoting a sustainable economic recovery across the EU, according to the report 'Capital Markets Union: A Welcome Start ( HL 139)'.
The Capital Markets Union will provide an opportunity to create a properly-functioning Single Market in capital by diversifying funding, and improving investment opportunities across the EU. The proposals aim to spread and mitigate risk throughout the financial system while at the same time tackling problematic regulatory and administrative barriers, and the deep-rooted cultural obstacles to growth that have held back economic recovery in the EU.
The Committee support the Commission's proposed approach including a mix of short, medium and long-term measures and a range of legislative and non-legislative tools. The Committee particularly welcomes the commitment to ensuring that Capital Markets Union is for all 28 Member States.
The Commission's Green Paper is a helpful starting point for these discussions, although the sheer quantity of proposals it sets out creates a danger of a lack of focus.
A good starting point is to identify those measures that are most necessary to support the Commission's jobs and growth agenda.
Find similar publications here: