Draft Protection Of Charities Bill
HL 108, HC 813 - Report - Report, Together with Formal Minutes
Author:

House of Lords, House of Commons - Joint Committee on the Draft Protection of Charities Bill

Publisher:

TSO (The Stationery Office)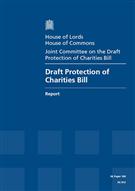 Add to Basket
The report 'Draft Protection Of Charities Bill (HL 108, HC 813)' supports the proposal of the Draft Charities Bill to introduce a power for the Charity Commission to issue a statutory warning to a charity as a useful tool that falls in between issuing guidance and the opening of an inquiry.
The statutory warning process should include safeguards on the face of the Bill including limiting the circumstances in which a warning could be issued, a requirement on the Commission to issue written notice of a warning to a charity and a reasonable time period for a charity to respond before the warning is formally issued and published.
Proposals to extend the list of offences for which conviction would automatically disqualify a person from acting as a charity trustee are also supported. These offences include terrorism, money laundering and perjury.
The Charity Commission should do more to promote understanding of the availability of waivers and simplify wherever possible the waiver application and decision-making process. There is also a lack of clarity over the effect of cautions, rather than convictions, for disqualifying offences which the Committee calls on the Government to address.
Including overseas convictions for equivalent offences as drafted is not supported by the Committee, and the Government should do further work to explore whether instead it could apply the regime proposed for disqualifying directors in the Small Business, Enterprise and Employment Bill
Find similar publications here: